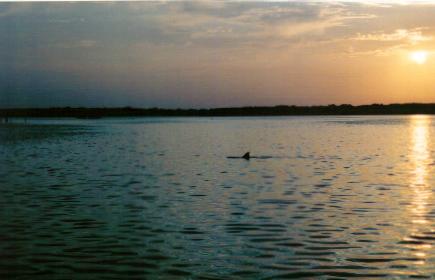 As dawn breaks a pair of dolphine are fishing themselves just beyond the boat.
We have been lucky to go fishing with Captain Ron twice this year. This last time his lovely wife Bev also came . Bev is John's secretary and these trips have been their gifts to him.. thank you thank you... I love her sense of humor and her warmth. They showed us a wonderful time. I appreciate both Ron's and Bev's baiting my hook and taking any catch off the hook for me. I loved watching Bev with a stingray on her hook, it was funny that is until I also got one on my hook. Not so funny then, they are darn hard swimmers and just take off. Ron is informative about the various fish in the waters, and appears to know where to find them. He regales us with tales of other fishermen he has taken out and the catches they have taken home. Nothing is better than being on the flats and looking at the various islands. Southwest florida is the best for fishing. I would highly recommend for any of you in the area to have Captain Ron as your guide.You can contact him by email CaptainRonLJ@aol.com
Ron works part time as a fishing guide. Here he throws the net to catch bait needed for the day.